Recent advancements in low-cost sensing technologies have proliferated the Internet of Things (IoT). IoT provides connectivity to any device via Internet Protocol (IP), enabling more efficient monitoring and control of any medium, including buildings.
Although any existing infrastructure with IP support, such as WiFi and mobile networks, can be used to establish IoT networks with additional hardware, an effective and low-cost alternative is to deploy IoT gateways operating with purpose-built wireless systems. This approach offers standalone platforms for applications reporting vital parameters across a city and in and around the buildings. To provide a reliable communication and networking infrastructure that supports low-cost sensing in the built environments, we have been deploying and are maintaining several IoT gateways across Sheffield.
Better connected
For connectivity, we use The Things Network (TTN), an open-source, decentralised platform that makes sensor readings observable at any time and anywhere needed. TTN uses LoRaWAN, which is a low-power and long-range IoT protocol communicating at the 868 MHz ISM band in the UK.
Given its low bandwidth, LoRaWAN is ideal for sensing applications. The gateways that are deployed provide packet continuity, enabling the transition from the sensor network into cloud services. The core system support for this is provided by the Urban Flows Observatory in Sheffield. In addition, we have a small grant from Research England (Pitch-In) which enables us to survey the radio frequency (RF) spectrum with an autonomous network scanner to assess the performance of the network in terms of coverage, occupancy, and signal strength. This is also helping us to generate a better understanding of how the ever-changing urban landscape affects the operation of RF infrastructure. The project outcomes will contribute to policymaking activities and provide guidance for building design, planning, and management.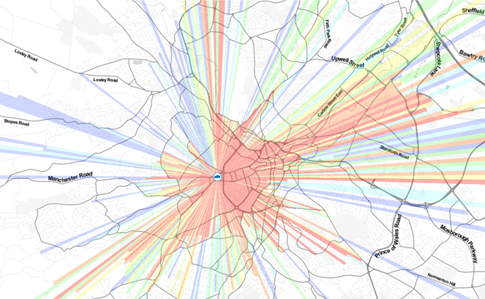 Our gateways
We currently have three gateways up and running, which are deployed on the University's Hicks Building, Tinsley Bridge, and Rivelin Valley. There are four more locations, namely Branfield, ICAIR, Endcliffe, and Norton, with equipment installed, that are awaiting commissioning.
Due to its central location, the gateway on the Hicks Building provides extensive coverage across the city (Fig. 1) compared to the others.
We are now mapping the coverage using GPS devices, e.g., TTGO T-Beam, Adeunis, and Zane, which periodically connect to the gateways when in range. The gateways are compact and easy to deploy; Fig. 2 shows one of the gateway on top of the ICAIR building.
Next steps
Currently, this is a macro network covering mostly the urban areas, as shown in Fig. 3, but future work will focus on installing indoor gateways. We will be using the Digital Media Centre 02 as a trial site for this work to test indoor vs. outdoor network coverage.
Our pilot study will involve RAK Wireless' WisNode Sense Home modules to monitor medium temperature, humidity, and pressure using those gateways. This will enable low-cost, low-power, and flexible operations/data transmissions compared to conventional building management systems. This infrastructure will also allow us to communicate with buildings and their installed systems more effectively, which is critical if we are to successfully scale active buildings.
Dr Oktay Cetinkaya is a Research Associate at The University of Sheffield where he works closely with Steve Jubb as part of the Urban Flows Observatory and the Active Building Centre Research Programme.