Several regulations and standards have been developed worldwide in order to deal with the energy performance of buildings. But do these push things forward enough to make sure we will hit our national net zero target by 2050? According to industry experts, the answer is "no" and the lack of clarity is hindering our transition to a net zero future.
Industry engagement
As part of our ongoing research, we have been engaging key stakeholders (e.g. architects, sustainability consultants, energy managers, etc.), with the aim of elucidating the challenges for the building industry in light of the 2050 target. This will ultimately reveal any important aspects that should be taken into account when developing or revising building regulations and standards.
Our stakeholder engagement activities orientated around a series of (online) focus group discussions. Outlined below are the key findings so far.
Revealing conversations
After running the first five focus group discussions, the following key aspects were found to be missing from existing regulations and voluntary standards:
Simplicity. People need to understand things quickly, in order to take notice of them. A simple, understandable formula is therefore needed to ensure the wide adoption of regulations and standards.
Absolute performance targets. Assessing the performance of buildings in relation to notional buildings (as currently proposed by the Building Regulations) leaves space for inefficient building shapes. Absolute performance targets are hence needed to award well-performing building forms and prevent designers from developing poor design solutions.
Whole-life perspective. People tend to be interested in the capital cost of buildings, thus being commonly unwilling to invest an additional amount to reduce operational energy, even if its payback period is short. However, high-performance buildings are not as expensive as people may think if they are seen from a whole-life perspective, as they can lead to significant reductions in operational cost over buildings' lifespan. These are also accompanied by important benefits for the health and well-being of their end users as well as for the environment. Adopting a whole-life perspective, this including the consideration of the embodied carbon of buildings which is commonly ignored by building regulations and standards, is also vital for delivering the aspired reductions in carbon emissions.
Pairing buildings to the energy system. Defining the interaction between buildings and the energy infrastructure is key to avoiding the most carbon-intensive power and ultimately delivering net zero. Harnessing the low-carbon power necessitates the use of storage technologies, which will provide the grid with flexibility and hence reduce the need for reinforcement to meet demand. However, there is a lack of incentives or even quantification of relevant benefits in national and local policies.
Intelligence. Smart (building) technologies are critical in allowing buildings to interact with the grid while responding to the needs of their end users, but yet not precisely defined in regulations or standards.
Performance verification. All groups highlighted the lack of a compulsory scheme for post-occupancy evaluation for all types of buildings. The Building Regulations and the majority of standards are currently design-focused rather than performance-focused, often leading to a significant gap between predicted and in-use energy performance.
Incentives. There is a general absence of incentives for building low-energy buildings. With decisions being commonly taken on the basis of capital cost, transitioning to greener buildings should be driven by the Government and local authorities through mandating performance requirements, to which developers, private owners and tenants will have to commit. This will then spark the aspired market transformation.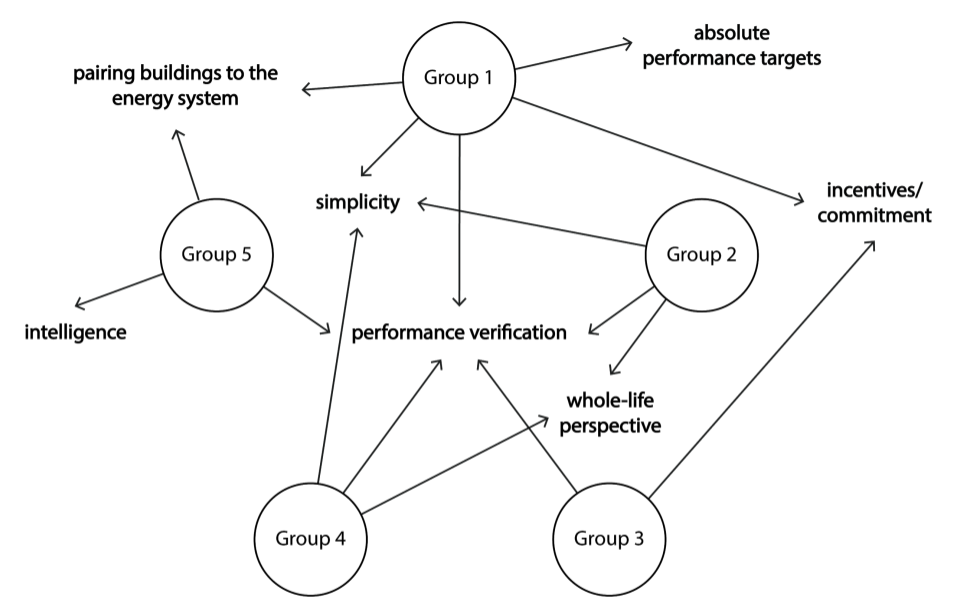 Our way forward
These aspects should be taken into account when developing or revising standards to ensure the feasibility of a net zero future for the built environment. There is certainly not a single road to decarbonisation. However, the interaction with the energy infrastructure will be key to any potential road. This is reflected in our recently proposed Active Building Code and discussed in our White Paper, which treats buildings as active entities that produce, store and share energy in line with the needs of both their end users and the energy infrastructure.
The application of such aspects to real-world building projects can be challenging due to the need to find a balance between environmental and economic benefits. The market will also undoubtedly need a few years to get to an equilibrium. However, the sooner we take action, the sooner we will surmount such challenges – and thus the higher the chance of hitting our national net zero target will be.
A special thanks to everyone who participated in the focus group discussions.
If you would like to share your thoughts with us, please contact Elli Nikolaidou (en450@bath.ac.uk).